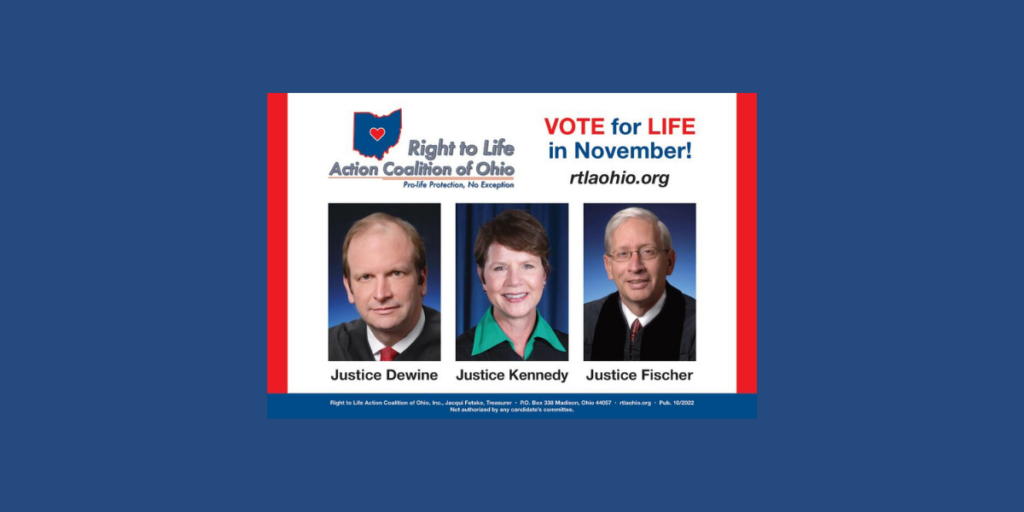 We must re-elect these pro-life members to the Ohio Supreme Court
By Robert J. Meyers, Esq.
The Supreme Court's decision in Dobbs v Jackson reversing Roe v Wade and returning the issue of abortion to the 50 states has changed the dynamics of the pro-life movement. We are now in a battle to limit or eliminate abortions in all 50 states.
In Ohio, we are trying to protect the law which limits abortions under the heartbeat bill so that no abortions can be done after a heartbeat is detected in the unborn baby at about 6-8 weeks from conception. We also intend to ask the legislature to pass a law banning all abortions.
To be successful with eliminating the horror of abortions in Ohio, we need to maintain a pro-life state house. Therefore, we need to vote for pro-life senators, representatives, and a pro-life governor.
We also need to elect pro-life judges to our courts in Ohio and to the Ohio Supreme Court. It is critical that we not lose the abortion restrictions in place in Ohio by having an Ohio Supreme Court controlled by progressive members who could establish by judicial fiat Ohio's own equivalent of Roe v Wade.
We must elect to the court this November the three pro-life members of the Ohio Supreme Court running for re-election: Sharon L. Kennedy for Chief Justice, Patrick F. Fisher and R. Patrick DeWine for Associate Justices.
If we fail to re-elect these three members to the court, we could lose all the protections we now have or hope to achieve for the unborn.