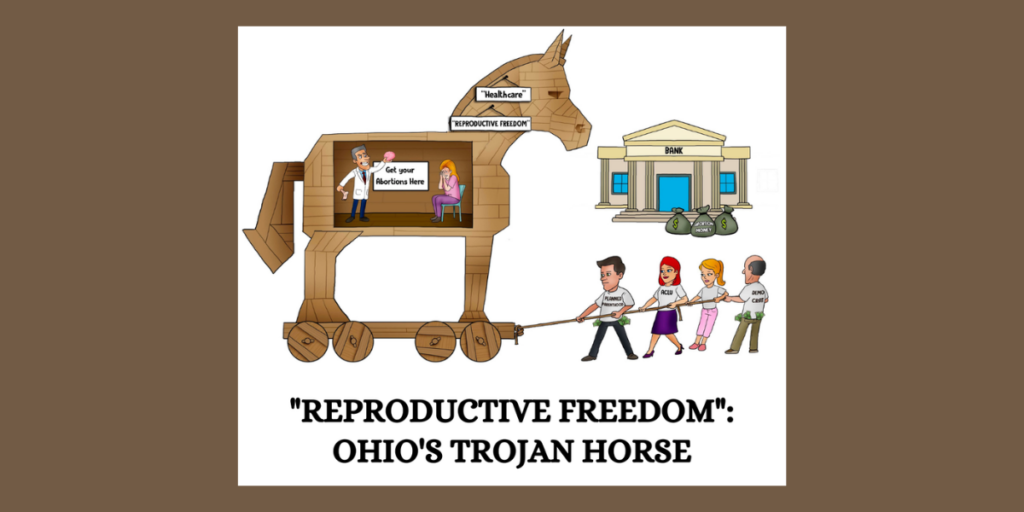 "Reproductive Freedom": Ohio's Trojan Horse
PROTECT WOMEN OHIO LAUNCHES TWO
NEW ADS TO DEFEAT EXTREME ANTI-PARENT AMENDMENT
"Parents have every reason to fear the ACLU's extreme agenda. The state government doesn't know what is best for our kids, we do."
– Molly Smith, Board Member, Protect Women Ohio
Protect Women Ohio (PWO), a pro-woman, pro-life, pro-parent coalition, is launching two new 60-second ads this week aimed at defeating Ohio's dangerous anti-parent amendment. The ads, entitled "Libby" and "Linda," will go into rotation as part of last month's $5 million statewide television and digital ad buy. The ads feature Ohio moms Libby McCartney and Linda Corbitt explaining how the ACLU-backed amendment will eliminate parental notification and consent requirements for minors obtaining abortions or sex change surgeries. This extreme anti-parent amendment is the latest example of the ACLU's war on parental rights, effectively cutting parents out of the most important and life-altering decisions of their child's life.
McCartney and Corbitt explain the amendment language clearly forbids any law that "directly or indirectly" would "burden" or "interfere" with an individual's "reproductive decisions." Those are specific legal terms which have been interpreted by courts across the country to strike down parental notification and consent laws.
Cincinnati RIght to Life is a member of PWO and working in partnership with this strong, statewide group to stop this extreme ballot initiative.
"This radical ballot initiative is deceptive and dangerous. Ohioans should be very concerned about abortionists advancing their anti-parent, anti-health, anti-life amendment. Ohioans that value families and life are working to keep our families safe and keep the killing-cash out of the abortionists' pockets." -Laura Strietmann, Executive Director, Cincinnati Right to Life

---