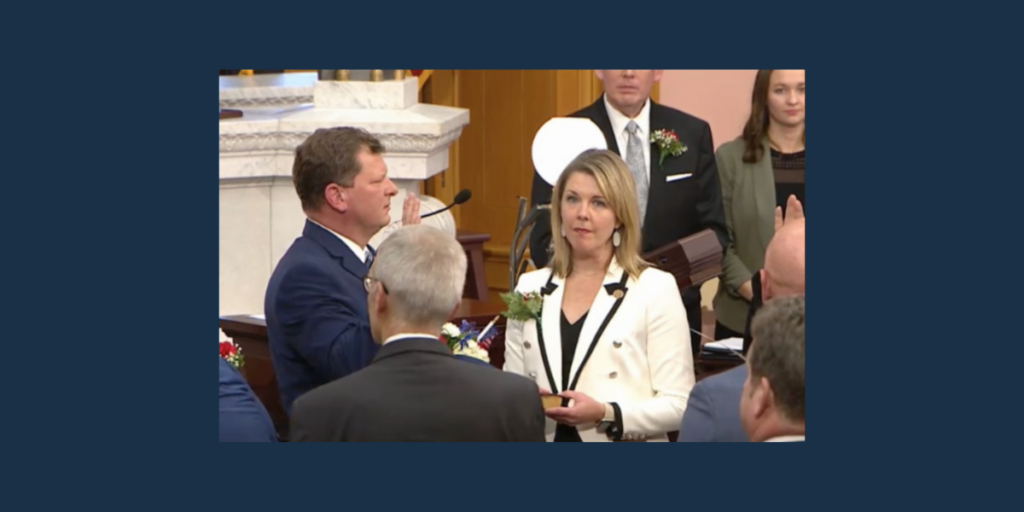 Is the New Ohio Speaker of the House a PLINO?
In what many are calling a betrayal to the Ohio Republican Party, 22 Republicans voted in line with the 32 Democrats, who all voted in unison, to elect Rep. Jason Stephens of Kitts Hill to become the new Ohio Speaker of the House of Representatives.
On the overturn of Roe vs. Wade last year, Rep. Jason Stephens stated the overturning of Roe vs. Wade was, "A victory for innocent human life." However Rep. Jason Stephens had Allison Russo, a Democrat endorsed by Planned Parenthood and NARAL Pro-Choice Ohio, hold his Bible during the swearing-in ceremony.
Is Rep. Jason Stephens Pro-Life In Name Only? (PLINO)
Rep. Stephens snatched the Speaker role from Rep. Derek Merrin, of Monclova, with 54 votes to Merrin's 43. Merrin had previously been the Speaker-Elect of the House after a caucus vote in November. However, Merrin's father passed away on December 29th, 2022, which was the same time Rep. Stephens made moves to the Speakership role. Merrin commented right around that time, "That's when the foot on the gas pedal went into play", according to Cleveland.com.
This comes as a shock to conservatives in Ohio, as well as to the Ohio Republican Party, who helped elect 67 Republican members to the Ohio House of Representatives in November.
Why would 22 Republicans need to side with 32 Democrats to elect a Speaker when the Republicans had such a super majority? Ohio Republicans will demand an answer to this question.
One thing that is fairly certain in this deal was that Stephens would agree to the elimination of House Joint Resolution 6, which would increase the threshold needed to pass a constitutional amendment to 60%, a direct threat to the pro-abortion ballot initiative slated to hit the Ohio ballot box for either November 2023 or 2024.
The Ohio Christian Alliance, an active conservative grassroots organization representing Christians in the state of Ohio, put out a statement expressing concern: "Any meaningful pro-life legislation is now dead."
Aaron Baer, President of Center for Christian Virtue, commented on Jason Stephens getting elected:
"The bottom line is you have a lot of folks who feel hurt, who feel betrayed. And it's going to be a real test to say are you [Rep. Jason Stephens] going to actually bring people together or did you just sell out everything you say you stand for in order to get a position of power?"
A resolution has been drafted by the Ohio Republican State Central Committee to censure all 22 Republicans who sided with the Democrats, which would prohibit any and all financial and in-kind assistance they would otherwise receive from ORSCC.
Cincinnati Right to Life is deeply concerned by the confusion and chaos in Columbus. Pro-lifers had been told, "wait until lame duck" and then "wait until the new leader is installed" until we could move to protect the preborn and end all abortion in Ohio.
We are TIRED of waiting to end abortion in our state when Roe is in the ash heap of history. Fourteen states have protected the preborn. Meanwhile Ohio, a neon red state, still slaughters babies up to twenty-two weeks gestation at the rate of 400 children weekly. This is outrageous and we wait for Speaker Stephens to ACT legislatively, not just SPEAK on protecting life in Ohio.