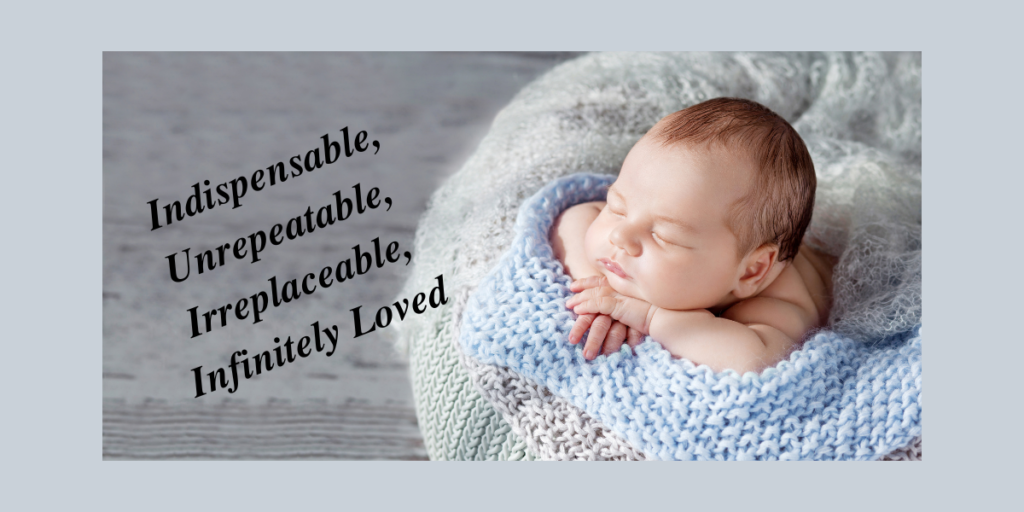 40 Days for Life Cincinnati Update – Week 4
40 Days for Life Update
Reminder, Closing Prayer Campaign
Sunday, November 5, 2:00 p.m.
November 3, 2023
Contact: Mary Clark
Cincinnati Campaign Leader
513-365-2606/cincy40days@fuse.net
October 17 was Students for Life of America's Fall 2023 "National Pro-Life Chalk Day." You can see some amazing artwork winners at https://studentsforlife.org/2023/10/25/the-results-are-in-congratulations-to-sflas-fall-2023-national-pro-life-chalk-day-winners/.
I happened to come to pray at PP that day and saw a drawing of a preborn baby surrounded by words of confirmation that each life is precious. My photos couldn't contain the entire drawing, so I'll describe what I saw. Around the drawing of the baby is said: "Unplanned, Unrepeatable, Unconditionally Loved." Then in large letters, "Every Human Being Is Indispensable, Unrepeatable, Irreplaceable, Infinitely Loved" (You)."
That's a beautiful message we should commit to memory and be ready to tell anyone we meet who needs to hear it.
Whether you've been able to come to pray throughout this fall's campaign or not, please join us for our Closing Prayer Hour of Thanksgiving this coming Sunday, November 5, in front of Planned Parenthood, 2314 Auburn Avenue, Cincinnati, 45219, at 2pm. See "LOCAL EVENTS" on our website, www.40daysforlife.com/cincinnati. All denominations are encouraged to attend. We will include the "Prayer for Ohio" as we continue to pray for the defeat of Ohio Issue 1. The event will begin with a rosary at 2pm and the rest of the event will begin around 2:20pm. You are welcome to arrive at either time.
Contact me with any questions.
Known churches and group affiliations of our participants
Please let me know if your affiliation is not listed, whether you come to pray as an individual or with a group.
All Saints Parish, Kenwood
All Saints Parish, Walton, KY
Blessed Sacrament Parish, Ft. Mitchell, KY
Christ the King Baptist Church, Cincinnati
Dearborn County, Indiana Parishes – (All Saints, Guilford; St. Lawrence, Lawrenceburg; St. Mary, Aurora; St. Teresa Benedicta of the Cross, Bright)
Divine Mercy Family of Parishes – (Our Lady of the Visitation, Cincinnati; St. Joseph, North Bend; St. Jude, Bridgetown)
Eastside Family of Parishes – (St. Cecilia, Oakley; St. Mary, Hyde Park; Oratory of St. John Vianney at St. Anthony, Madisonville)
Good Shepherd Parish, Montgomery
Guardian Angels Parish, Mt. Washington
Holy Spirit Parish, Newport, KY
Immaculate Heart of Mary Parish, Anderson Twp.
Immaculate Heart of Mary Parish, Burlington, KY
Mary Queen of Heaven Parish, Erlanger, KY
Mary Queen of Heaven Family of Parishes – (St. Ann, Groesbeck; St. Bernard, Taylor Creek; St. James the Greater, White Oak; St. Margaret Mary, North College Hill)
Mount Saint Mary's Seminarians, Cincinnati
Old St. Mary Parish, Cincinnati
Our Lady of Lourdes Parish, Cincinnati
Queen of Apostles Family of Parishes – (Our Lady of the Rosary, Greenhills; Our Lady of the Valley, Reading; St. James of the Valley, Wyoming with support from the Knights of Columbus)
Sacred Heart Parish, Cincinnati
St. Andrew Parish, Milford
St. Anthony Parish, Taylor Mill, KY
St. Antoninus Parish, Cincinnati
St. Barbara Parish, Erlanger, KY
St. Catherine of Siena Parish, Ft. Thomas, KY
St. Columban Parish, Loveland
St. Edmund Campion Academy
St. Elizabeth Ann Seton Parish, Milford
St. Gertrude Parish, Madeira
St. Henry Parish, Erlanger, KY
St. Ignatius of Loyola, Montfort Heights
St. John the Baptist Parish, Colerain Twp.
St. John the Baptist Parish, Wilder, KY
St. Joseph Parish, Cold Spring, KY
St. Joseph Parish, Crescent Springs, KY
St. Margaret of York Parish, Loveland
St. Mary Parish, Arnheim
St. Mary of the Assumption Parish, Alexandria, KY
St. Patrick Parish, Taylor Mill, KY
St. Paul Parish, Florence, KY
St. Philip Parish, Melbourne, KY
St. Pius X Parish, Edgewood, KY
St. Susanna Parish, Mason
St. Thomas More Parish, Withamsville (Stella Maris Family)
St. Timothy Parish, Union, KY
St. Vincent Ferrer Parish, Kenwood
The Bridge, Alexandria, KY