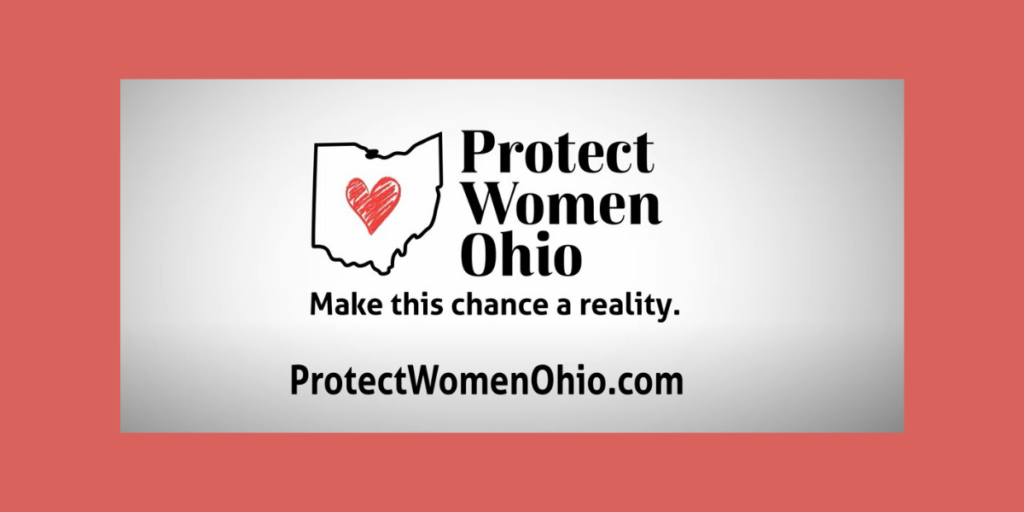 Protect Women Ohio Releases New Video to Commemorate Dobbs Anniversary
"This video is a powerful reminder of the progress we have made to protect lives across Ohio, and a call to action to defeat the ACLU's radical anti-parent abortion amendment in November."
-Molly Smith, Board Member, Protect Women Ohio
COLUMBUS, OH — Protect Women Ohio (PWO), a pro-woman, pro-parent, pro-life coalition, released a new video today to commemorate the one-year anniversary of the Dobbs v. Jackson U.S. Supreme Court ruling, and to call for the defeat of the ACLU's dangerous anti-parent amendment. The 90-second video, titled "Our Chance," is launching ahead of the Dobbs anniversary on June 24.
"This video is a powerful reminder of the progress we have made to protect lives across Ohio, and a call to action to defeat the ACLU's radical anti-parent abortion amendment in November," said Molly Smith, PWO Board of Directors member. "We hope this video will inspire Ohioans to continue fighting to protect the unborn, women, and parents' rights to make decisions about their children's wellbeing."
The video will run on PWO's website and social media channels. It will also be shared with pro-life organizations and coalition members across the state.
The video features pro-life images of children and families. It also includes footage of activists standing up for parental rights, the unborn and women. It calls for Ohioans to vote to defeat the ACLU's extreme anti-parent amendment this November. The proposed amendment will eviscerate parental rights and allow minors to obtain abortions and sex changes without parental consent; allow for painful, late-term abortions at taxpayer expense; and wipe out existing common-sense health and safety protections for women.
Ad Text:
Narrator: We have waited for our chance.
Our chance to make a difference, to save lives.
Now, our chance is here.
The abortion industry's proposed amendment would allow no-limit abortions in Ohio — abortions
when the baby can feel pain…excruciating pain.
On top of that, the same radical groups want to tear at the fabric that holds our families together, allow
our children to get abortions without our consent, and remove all protections for the unborn.
As parents, it's our worst nightmare.
A potential reality so grim, it's hard to even imagine.
Together we can stop unrestricted abortion; reinforce the need for parental involvement; put an end to
the greedy, profiteering pro-abortion industry.
Stopping the abortion industry from taking the lives of babies can be a turning point.
We'll have a story to tell our children and grandchildren about the time we voted to save lives, voted to
keep our rights as parents.
This is our chance to save lives.
Join us at ProtectWomenOhio.com to make this chance a reality.
A legal analysis of the extreme anti-parent amendment is available HERE from constitutional scholars Carrie Campbell Severino, President of Judicial Crisis Network, and Frank J. Scaturro, a former special counsel to the House Select Investigative Panel on Infant Lives.
Background on the ACLU's war on parental rights is available HERE. The ACLU has a long and well-documented history of fighting against parental rights, including in Alaska and Indiana. The ACLU specifically calls out parental involvement on its website, saying it would restrict "teenagers' access to abortion." Heritage Action recently released a report and video about the ACLU's attacks on parental rights in Ohio. In recent weeks, the ACLU has denounced parental notification requirements in schools, and the ACLU of Ohio's chief lobbyist confirmed that stance on Twitter.
URGE, which is part of the coalition supporting the ACLU's anti-parent amendment, has a long history of opposing parental consent.
All of PWO's ads can be viewed HERE.
###
Protect Women Ohio is a coalition of concerned family and life leaders, parents, health and medical experts, and faith leaders in Ohio. Molly Smith, Founding Member of Right to Life Action Coalition of Ohio, Aaron Baer, president of Center for Christian Virtue, and Peter Range, CEO of Ohio Right to Life, serve as members of the PWO Board of Directors.
To learn more please visit www.protectwomenohio.com.