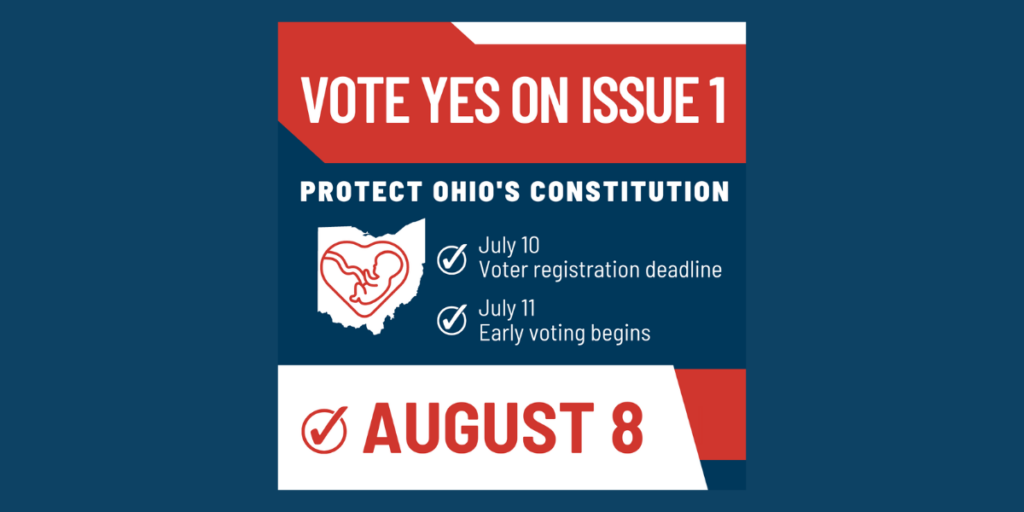 Vote YES on Issue 1, August 8!
Ballot Language Set: Vote YES on ISSUE 1
August 8, 2023
On Thursday in Columbus, The Ohio Ballot Board approved the language for the statewide August 8, 2023 special election. On the ballot, the measure to protect Ohio's Constitution will be Issue 1. Cincinnati Right to Life and other pro-life organizations across the state will be supporting a Vote Yes on Issue 1 campaign. The Ohio prolife organizations will be joined by the Ohio Chamber of Commerce, The National Federation of Independent Businesses in Ohio, the Ohio Restaurant Association, the Ohio Hotel & Lodging Association, and the Buckeye Firearms Association as we work to protect Ohio's Constitution.
The official name of the ballot measure is ELEVATING THE STANDARDS TO QUALIFY FOR AND TO PASS ANY CONSTITUTIONAL AMENDMENT.
Ohio is among nine states with the weakest standards for passing Constitutional amendments. Forty-one other states require more than a simple majority (50% plus one vote) and thirty-two other states do not even allow citizen-initiated amendments on the ballot. As an example, Kentucky, not one of the nine weakest states, has amended its constitution just forty-three times, compared to Ohio amending our constitution one hundred and seventy-four times.
In 1912, the citizen-initiated amendment process was added to the Ohio Constitution. Over one hundred and ten years ago, when this was added to Ohio's Constitution, citizens were far less mobile, communications were slow, there were not billionaire special interest groups interfering in state elections to the extent of today's elections.
Out-of-state special interest groups announced in February their intention to enshrine Ohio abortion through all nine months. While there are other benefits to protecting Ohio's Constitution, pro-life groups work so "that radical out-of-state organizations are not able to rewrite our constitution to give Ohio one of the most extreme abortion laws in the country."
In Michigan's November 2022 election, voters in the state enshrined pre-born child dismemberment, starvation, and poisoning through nine months, with 56% of the voters casting a vote in favor of this barbaric amendment. Kentucky, Vermont, Montana, and Kansas have all been defeated in their right to protect the most vulnerable by margins just over 50%.
The August 8, 2023 election to raise the threshold in Ohio from a simple majority of 50% +1 to 60% is a way to protect preborn babies from the clutches of abortionists, but also prevent our Constitution from being for sale to billionaires who want to spread their progressive and woke agendas. "We just ran a marathon to victory to ensure SJR 2 was passed in Ohio's House. Pro-lifers will now be in our second marathon for LIFE on August 8. The weeks ahead are vital in regards to educating our citizens on what is at stake for families in our beautiful state. We must get voters to the polls to VOTE YES ON ISSUE 1 August 8." shared Laura Strietmann, Executive Director of Cincinnati Right to Life.