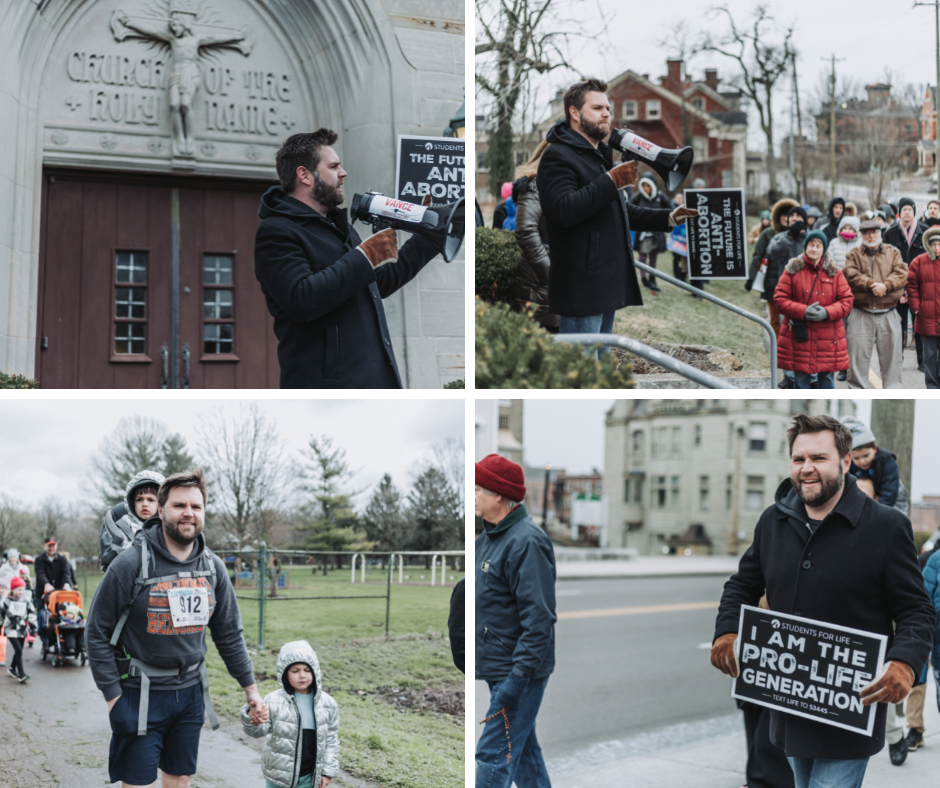 Thank you to everyone that voted for life on Tuesday. There was some good news and there was some difficult news with the results of the 2022 mid-term election. Overall, the voice for life was loud and clear in Ohio on​ November 8, 2022. Even as Biden and company dispatch the voice of death on our country, the voice for life prevailed in the Buckeye State.

Thankfully Governor DeWine, the signer of the Heartbeat Bill, and all state wide offices down ticket were won by the Republican pro-life incumbents. Nan Whaley, an abortion extremist, was defeated handily.

It is also great news that J.D. Vance ( R ) beat pro-abortion Tim Ryan (D) for the United States Senate seat being vacated by retiring Senator Rob Portman. This election was watched nationally with the impact not only being for Ohioans but all Americans. We look forward to J.D.'s voice for life in Washington.

​The biggest news for protecting preborn life in our state is the strong victories of the Ohio Supreme Court Justices Sharon Kennedy, Pat DeWine and Pat Fischer. The Right to Life Action Coalition of Ohio, the grassroots statewide pro-life organization that Cincinnati Right to Life helped establish during the time of the creation of the Heartbeat Bill, issued a statement: We are very pleased that all three of our endorsed Ohio Supreme Court judicial candidates have won the 2022 general election. We are hopeful that constitutional conservativism on our highest bench will have a hand in getting our Heartbeat Law reinstated as the case moves through the appeal process.

We offer our congratulations and prayers that God's blessings be upon all our elected representatives at all levels.

We also want to acknowledge and offer our gratitude to all our RTLACO members who volunteered countless hours in support of this election. We truly appreciate all of you who knocked on doors, got petitions signed, made phone calls, worked at the polls, and passed out literature. It is folks like you who are the true freedom fighters!!

RTLACO is preparing for the return of the legislature to Columbus in the next week or so. "We hope to continue our pursuit to end abortion in Ohio in the last days of this General Assembly" says Margie Christie, President of the Right to Life Action Coalition of Ohio.

In close races, pro-lifers Jenn Giroux (27) and Chris Monzel (28) came up short for their State Rep candidacies. Cincinnati Right to Life thanks Jenn and Chris for running and their efforts to be voices in Columbus for the preborn babies of our state. For Ohio election results visit here. Ohio does maintain a conservative majority in both the House and Senate in Columbus.

We are ever grateful for the many years of representation and the voice for life that State Rep Tom Brinkmann gave to preborn Ohioans. Cincinnati Right to Life also expresses enormous gratitude to Congressman Steve Chabot and his voice in Washington for the preborn.

With this election momentum, Cincinnati Right to Life will continue to speak the truth about life and the dignity of the human person. Working to educate southwest Ohio on the horrors of abortion, our agenda is full and we count on our entire pro-life community to prayerfully be with us. Our efforts in Columbus remain and we look forward in faith to ending all abortion in the state and build an even louder voice for life.