Become a 2023 Member of CRTL TODAY!
Jan 01, 2023—Dec 31, 2023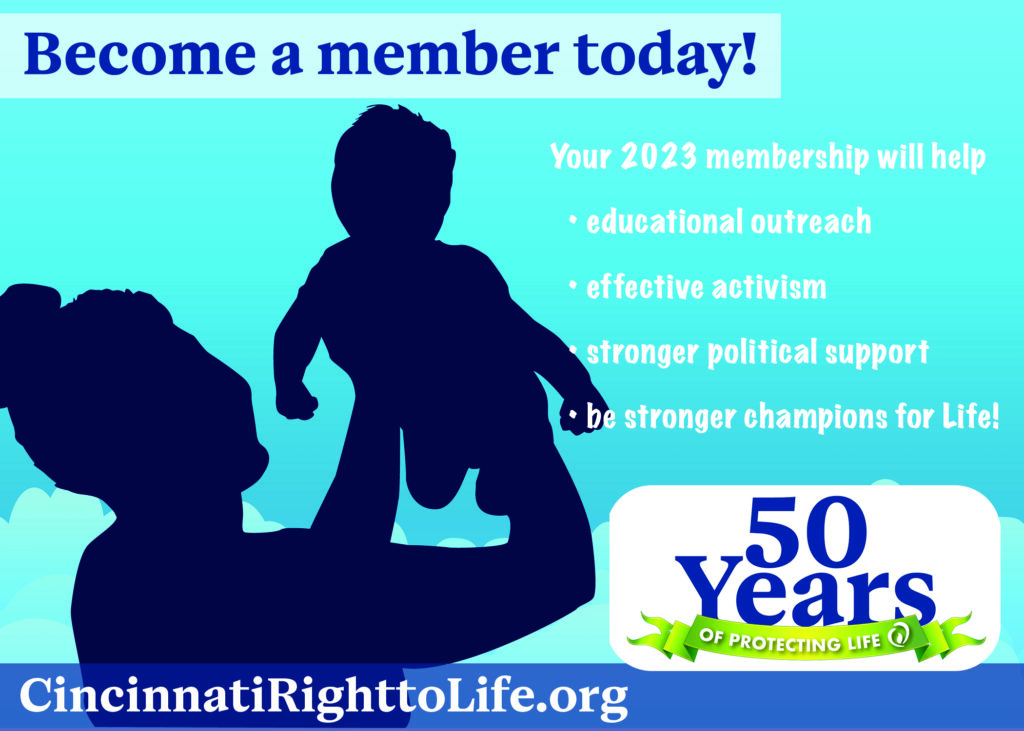 Hello Pro-Life Patriots,
As we embark upon a year that will afford us an opportunity to celebrate 50 years of defending God's most precious gift — the gift of life, we cannot help but wonder how many of us have become weary of what appears to be an endless uphill battle.
So many things in our world have remained the same, yet so many others have changed. One of the biggest changes occurred on June 24, 2022 with the Supreme Court overturning Roe v Wade. Our loyal supporters of CRTL have spent a half century working and praying for God to eliminate the unconstitutional implementation of Roe. While our prayers were answered, it is proving that the goal to end abortion and prevent euthanasia remains difficult. The work ahead is enormous.
Matthew 7:7 says, "Ask, and you will receive; seek, and you will find; knock, and the door will be opened to you." God answers prayers. But it also should come as no surprise that in this post-Roe world, the continued threat of evil remains.
Yes, immediate joy was obtained when with the fall of Roe, Ohio's Heartbeat Law was enacted. But then sorrow and frustration filled our hearts when Ohio's Heartbeat Law was indefinitely blocked by Hamilton County Common Pleas Court Judge Christian Jenkins. Through our recent midterm elections, God has granted us three pro-life Ohio Supreme Court Justices, who we pray will swiftly rule to lift the unconstitutional ban of the Heartbeat Law, set in place by pro-abortion activist Judge Jenkins.
According to the Ohio Department of Health's 2021 statistics, nearly 22,000 women "elected" to receive an abortion last year. Let us be clear, ABORTION IS NOT HEALTHCARE! It is the intentional taking of a human life, which violates God's 6th Commandment. Those who continue to lie and say that abortion is healthcare, remain blinded by the evil. Abortion in Ohio is on the rise and this is unacceptable.
Justice Antonin Scalia: "God assumed from the beginning that the wise of the world would view Christians as fools … and he has not been disappointed. If I have brought any message today, it is this: Have the courage to have your wisdom regarded as stupidity. Be fools for Christ. And have the courage to suffer the contempt of the sophisticated world."
Our prayer is that you will join Cincinnati Right to Life in our efforts to remain faithful, courageous advocates for life by enrolling in our membership program. Victory for life cannot be achieved alone!
We are closer than we have been in fifty years and must carry on with the Lord's work. You are directly involved in the battle for life when you join Cincinnati Right to Life's efforts through our membership.
Membership provides access to members-only content, quarterly newsletters, and exclusive invitations. Your membership will assist us in increasing our educational outreach, becoming better with our activism, and stronger with our political campaign support. We cannot continue to allow the evil actions of the misguided to distract us. We must remain focused on God's will for us.
Our team at Cincinnati Right to Life has grown, all in order to do God's will. All to be able to better pronounce the sanctity of life more boldly, more consistently, and with continued zeal.
Thank you for your continued support of CRTL, and life in general! We look forward to continuing this battle together. Trust the process! Trust Jesus!
May our Lord's peace remain with you,

Laura Strietmann, Executive Director
Printable Membership 2023 Form: