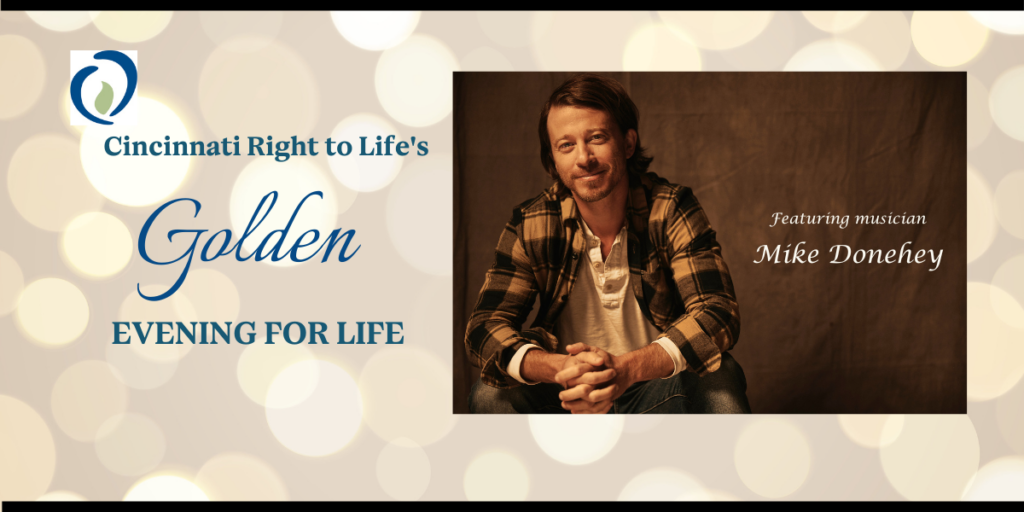 Evening for Life Speaker Spotlight
Golden Evening for Life
We hope you join us in 4 weeks!
Thursday, October 19th
Tickets are selling quickly
Our sleeves are rolled up. We are exhausting ourselves as we educate Southwest Ohio on what's at stake for the election and the vote NO on Issue 1, November 7. Yard signs, radio, digital, print ads, social media, town halls, billboards, mailings, door knocking and more–all to spread the word that the abortion industry is trying to enshrine abortion up to birth in Ohio's Constitution.
LORD HAVE MERCY!
In the meantime, we are also planning a banquet.
Not just ANY banquet, our 50th anniversary Evening for Life.
Because it is a special anniversary, we have a SPECIAL line up of presenters–this is an event you do NOT want to miss! We will highlight the speakers in emails and posts over the next week–we start by sharing Mike Donehey.
Mike Donehey, is a co-founder of 10th Avenue North, one of America's most celebrated contemporary Christian bands. Mike's life is a miracle, surviving a horrible car accident and being told he would never walk again. While recovering he picked up a guitar for the first time, and look what God did!
But what is also special about Mike, is his father Dan worked as a lobbyist for Dr. Willke. Mike even would visit Dr. Willke and sit on his desk as a small child. We are honored to have Mike warming up the VIP reception and then ending the evening with praise and worship. This aspect of the evening is going to be an incredible gift for all in attendance. We thank Mike for taking time from his family and busy sold-out concerts to honor 50 years of Cincinnati Right to Life!