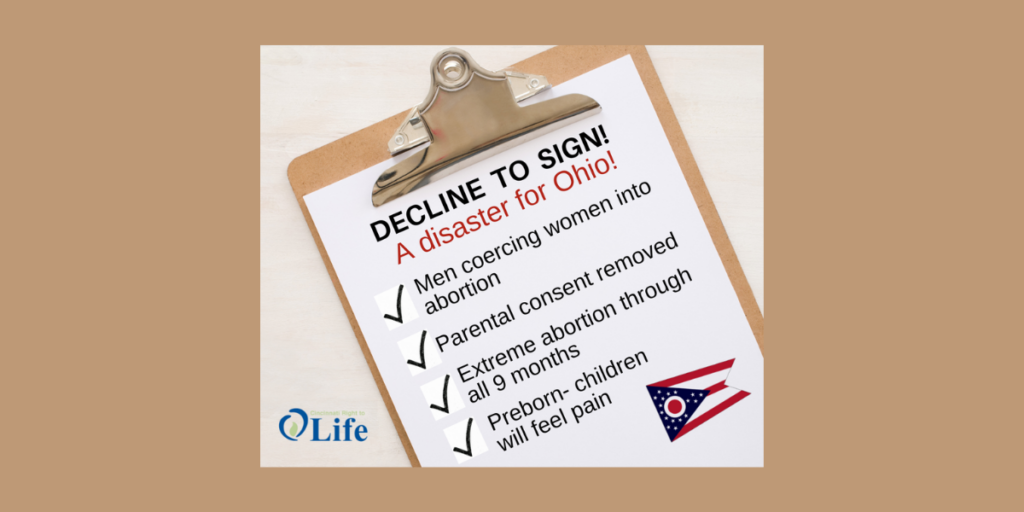 BREAKING: Ballot Language Approved
March 13, 2023-BREAKING: There were no surprises in the Ohio Statehouse today when the language for the extreme abortion Ohio ballot initiative was approved by the Ohio Ballot Board. Cheers of joy erupted from a packed room of pro-aborts, when by a 5-0 decision, the ballot board certified that the language contained just one constitutional amendment.
Laura Strietmann, Cincinnati Right to Life Executive Director shared, "It came as no shock that the ballot board certified the extreme abortion ballot language. What is shocking is that some confused people, Ohioans, think abortion is good for women, families, and our state. It is shocking that even after 50 years of Roe and 60 plus million dead people later that some individuals still strive to advance this violence that harms women and kills kids. If approved, men would continue to coerce and sexually assault women, parental notifications would be removed, and abortion for any reason, through all 9 months would be permitted in Ohio."
The deadline for the abortionists to collect 412,500 signatures is July 5, 2023. The preborn-child-killing-team will seek to collect over 700,000 signatures to ensure the deadly ballot effort will make it on the November 7, 2023 election. We can assume the pro-death advocates from ACLU, Planned Parenthood and other for-profit abortion businesses have started collecting signatures.
DO NOT SIGN the petitions. This is a horrible situation for Ohio, our beautiful pro-life state. We must stop the abortionists from decimating and destroying our home through their lying pro-death ballot efforts. Abortion harms women. Women deserve better than abortion. Everyone knows, abortion is not healthcare.
DO NOT SIGN the petitions.