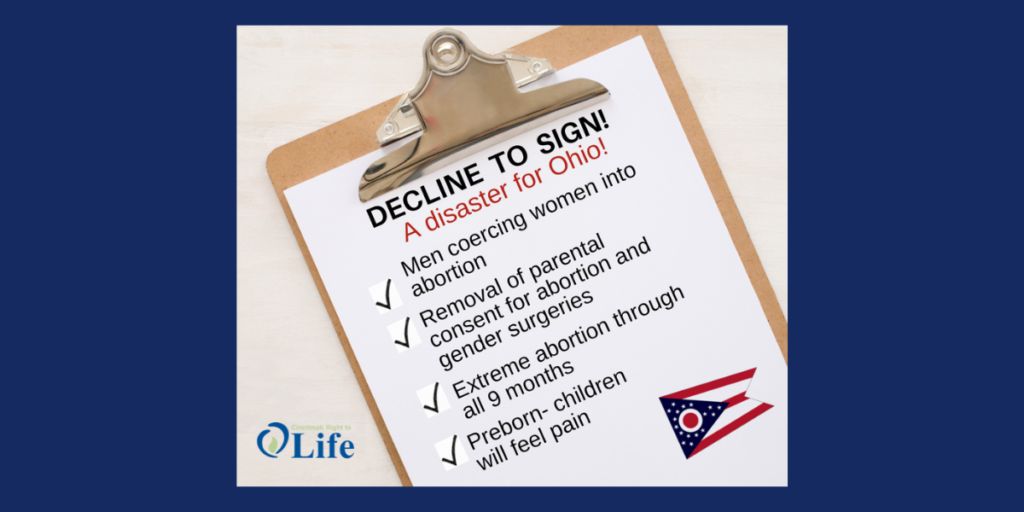 We Need Each and Everyone of you to Help us Protect Women
In the last several weeks, the ballot language for the pro-abortion constitutional amendment was approved by Ohio Attorney General Yost and then the Ohio Ballot Board approved the initiative as "one issue."
While it may seem there has been a series of "wins" for the abortionists, through all of this
fast-tracked approval from our pro-life endorsed politicians, the citizens do have an opportunity to fight back against this extreme measure.
How? How can you help? Yes, praying and fasting are at the top of the list. They will be our clear keys to victory. Please be serious about both opportunities.
What else? Share the dark, evil initiative with your friends and family. Teach them why they MUST NOT SIGN! Share the television commercial through email and social media.
And there is more? Yes, there will be more. This defensive effort is a
marathon, not a sprint. CRTL hosted a sold-out "Decline to Sign" training last week. We will host more. Please stay tuned. Dayton and Toledo will
be hosting similar trainings in the next weeks. Contact them to participate.
How can I give? All gifts donated to Cincinnati Right to Life during this battle will be used to defeat this measure that will destroy the sanctity of life in our state. Billboards, speaking events, television, radio, digital and more need to be saturated with truthful messages of LIFE! Dark money from outside interest groups funded the effort to enshrine abortion in Michigan. The reality is, it takes money to run the ads and promote our cause.
Can I volunteer? Yes! Yes! Yes! Are you able to knock on doors? Can you help
teach people why they should not sign? Can you help with mailers? Can you
attend events? Do you know the issue and can you write? Do you know people that can contribute and are you able to help raise funds? Can you pray and fast and organize weekly groups to gather in prayer? Can you help get pro-lifers registered to vote? Please contact us