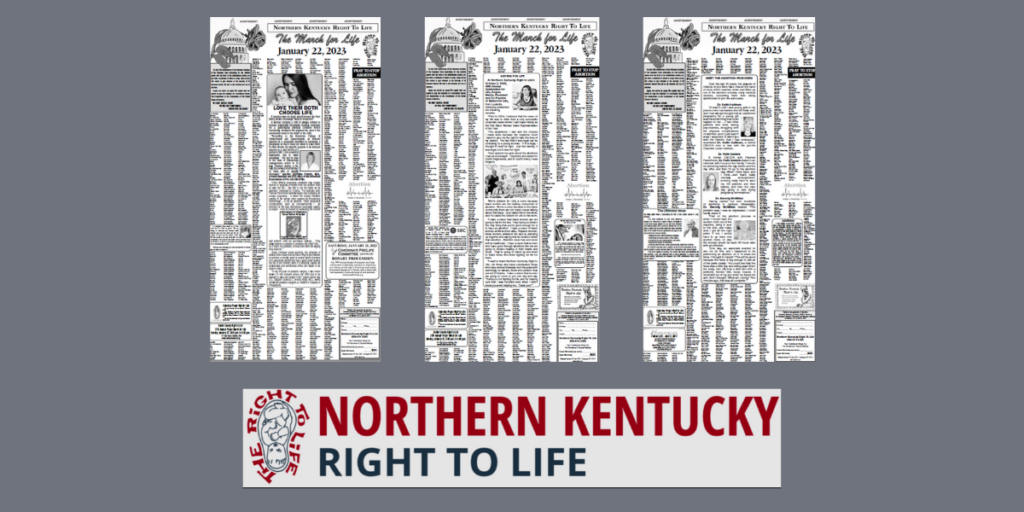 Northern Kentucky Right to Life pronouncing the Voice of Life
We thank our southern partners Northern Kentucky RIght to Life for pronouncing the voice of life.Through their efforts these beautiful ads were placed in the CIncinnati Enquirer on January 19, 22 and 25, 2023. While the secular media remains very much on the anti-life side, it is important that pro-life organizations keep penetrating the culture with our voice of truth.
Abortion is the direct killing of an innocent human being. It is that simple and NKYRTL never rests their voice in pronouncing this to the world. As of today, there are no surgical abortions taking place in Kentucky. LIves are being saved.
There were 4,441 abortions reported in Kentucky in 2021, an 8.2 percent increase from the previous year. Abortion Reporting: Kentucky (2021) – Lozier Institute
In 2021, there were 21,813 abortions reported in Ohio, an increase of almost six percent from 2020. Abortion Reporting: Ohio (2021) – Lozier Institute
Thank you to our friends in Kentucky. It is an honor working together with you as we fight for Life!