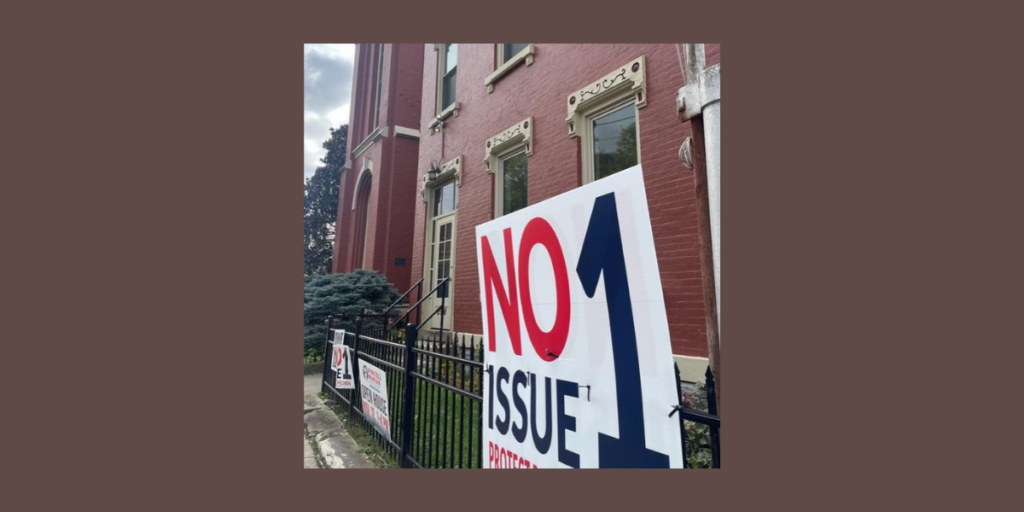 More than a dozen vandalism and theft reports of Issue 1 signs
Numerous accounts of theft and vandalism have been reported to police at Catholic schools, churches and cemeteries across the Archdiocese of Cincinnati. Dozens of Catholic properties have been displaying yard signs and large display signs opposing Issue 1 on the November ballot. Many of these locations have reported instances of theft of the signs and, in some instances, vandalism of their property.
Incarnation Catholic Church in Centerville was vandalized on Oct. 18 when the front door window of the church was spray painted (image attached to release) to cover the sign posted on the interior of the window. At St. Bartholomew Church in Cincinnati between Oct. 29 and the morning of Oct. 30, vandals removed between six and eight Vote No yard signs from the church property and replaced them with Vote Yes signs. The Vote Yes signs were quickly removed and replaced with new Vote No signs. In early October at St. Monica-St. George Church in Clifton, a large Vote No sign that was secured to the ground was pulled up and thrown in a nearby trash dumpster. It was found and placed back on the property. This sign was then recently stolen. The Cathedral Basilica of St. Peter in Chains in Cincinnati has also had several yard signs stolen and display signs on a fence vandalized. At. St. Mary Church in Oxford, a large 8'x8' display sign on the property was cut in half while a 4'x4' sign was vandalized. In addition, yard signs at St. Mary Church are being stolen multiple times a week.
More than a dozen other church properties, Catholic high schools and cemeteries have reported theft of Vote No yard signs.
To learn more about why the Archdiocese of Cincinnati opposes Issue 1 please visit www.WhereDoesItSay.com and www.catholicaoc.org/VoteNO. In the Archdiocese of Cincinnati there are more than 30 pro-life centers that assist pregnant women and families in need of assistance. More information about archdiocesan resources for women can be found on the For Life page of our website.

The Roman Catholic Archdiocese of Cincinnati is the 51st largest Catholic diocese in the country, with around 435,000 Catholics, and has the fifth largest Catholic school system in terms of enrollment with nearly 40,000 students. The 19-county territory includes 206 canonical parishes organized into 57 Families of Parishes, and 109 Catholic primary and secondary schools.
CRTL has MORE YARD SIGNS!
If your signs have been stolen or vandalized
or you just still need a sign, please contact us!
If you stand for preborn child poisoning and dismemberment, then stealing a sign is NOTHING!